"Thank you, thank you so much for helping me find my old lady! Otherwise the consequences would be disastrous." On the morning of November 3rd, Ms. Sun, who lives in Xinjia Street, Longkou City, made a special trip to Dawn Polymer and presented employees Ren Bo and He Huazhe with a pennant in which the words "warmhearted and helpful" were written to express her gratitude.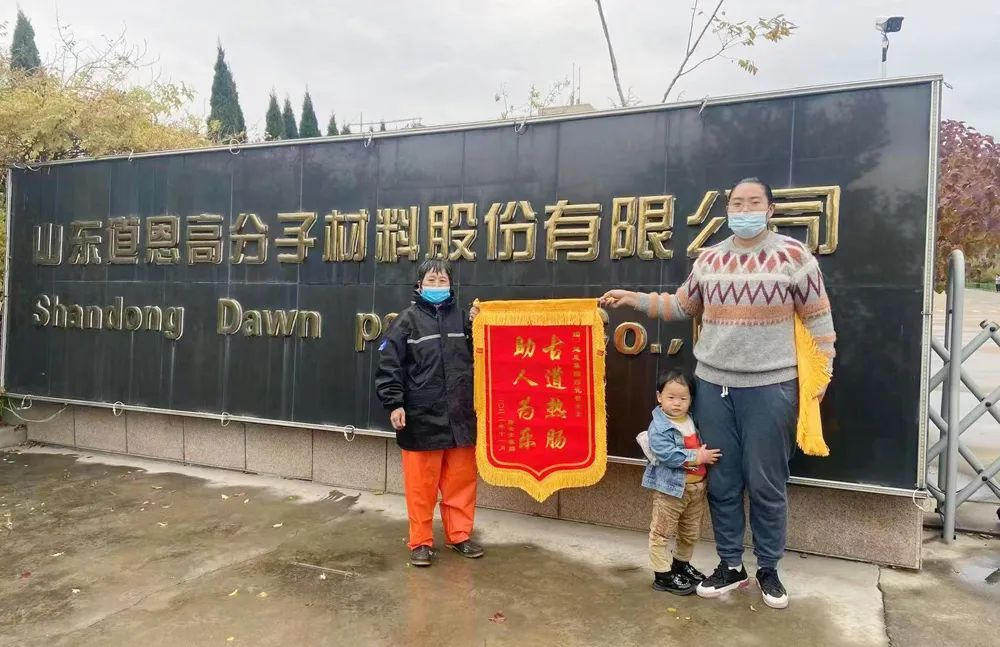 The thing happened in the early morning of October 31st. According to Ren Bo's recollection, at about 5:40 am, as a security guard, he was cleaning leaves outside the gate of the factory when he found an old lady in her 60s who was in a trance and staggering. "Auntie, do you need help?" Ren Bo stepped forward to ask, but the old lady was unresponsive. Her speech was slurred, and her expression was unclear for a long time.
In a hurry, Ren Bo called He Huazhe, a cleaner nearby, to communicate with the old lady together. After communication, they knew that the old lady was surnamed Yang and lived in Lutou Village, Lutou Town. She got lost from her home the night before, and went farther and farther in the bleak autumn wind until she walked into the industrial park where Dawn Polymer is located. "Do you remember your family's contact information?" they asked patiently. Mrs. Yang repeated several times and told them a mobile phone number.
Without delay, He Huazhe quickly called her family. After hearing the news, Mrs. Yang's family rushed to the west gate of Dawn Polymer. "When they arrived by car, they were so excited that their wheels hit the curb," Ren Bo said. After getting out of the car, Mrs. Yang's family couldn't wait to hold his hand tightly and took out CNY 200 in cash as a reward. "It's just a little effort! Bring the old lady home!" They declined.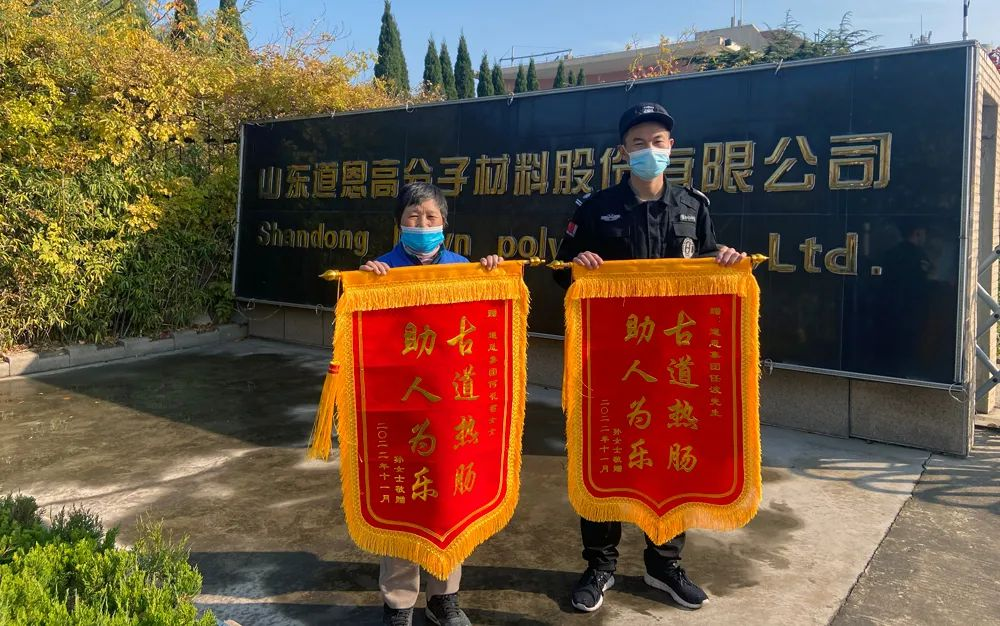 Mrs. Yang's family said that at 21 o'clock of October 30th, they found that the old lady with Alzheimer's disease was gone, and they were anxious. They hurriedly called the police and stayed up all night. "If she encounters bad people, it will be miserable!" Fortunately, she met the kind-hearted Dawn employees who helped her timely to go home.
As a civilized unit in Shandong Province, Dawn Group has been strengthening ideological and moral construction for many years, and vigorously creating a strong atmosphere of respect for morality and kindness. Up to now, a group of typical characters such as good people in China, good people in Shandong province, moral models in Yantai city, and moral models in Longkou city have emerged in Dawn Group. And they spread the truth, goodness, beauty and positive energy with practical actions and good qualities.