On September 28th, the "15th China Listed Company Value" list sponsored by the Securities Times was announced. Yu Xiaoning, Chairman of Dawn Group and Dawn Polymer won the "Top Ten Entrepreneurship Leaders of Listed Companies". Secretary Wang Youqing was awarded the "Excellent Secretary of the Board of Directors of Listed Companies on the Main Board".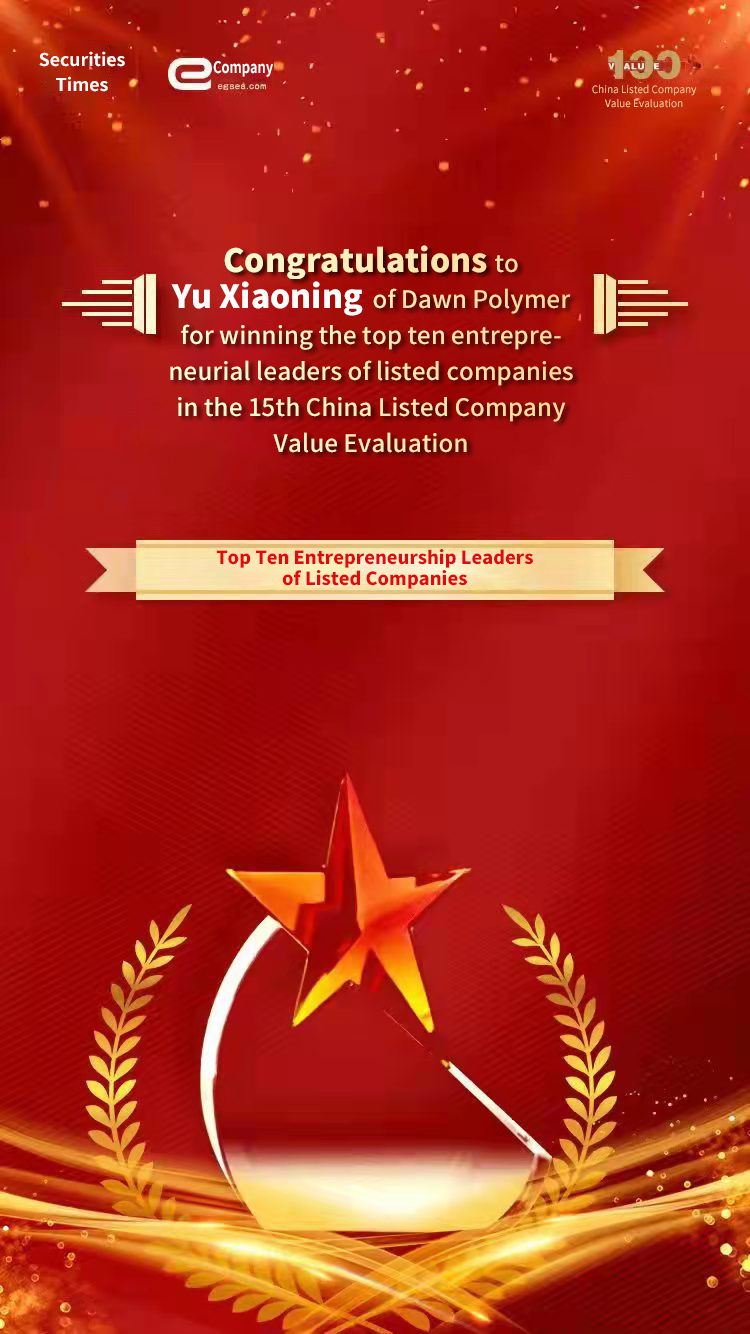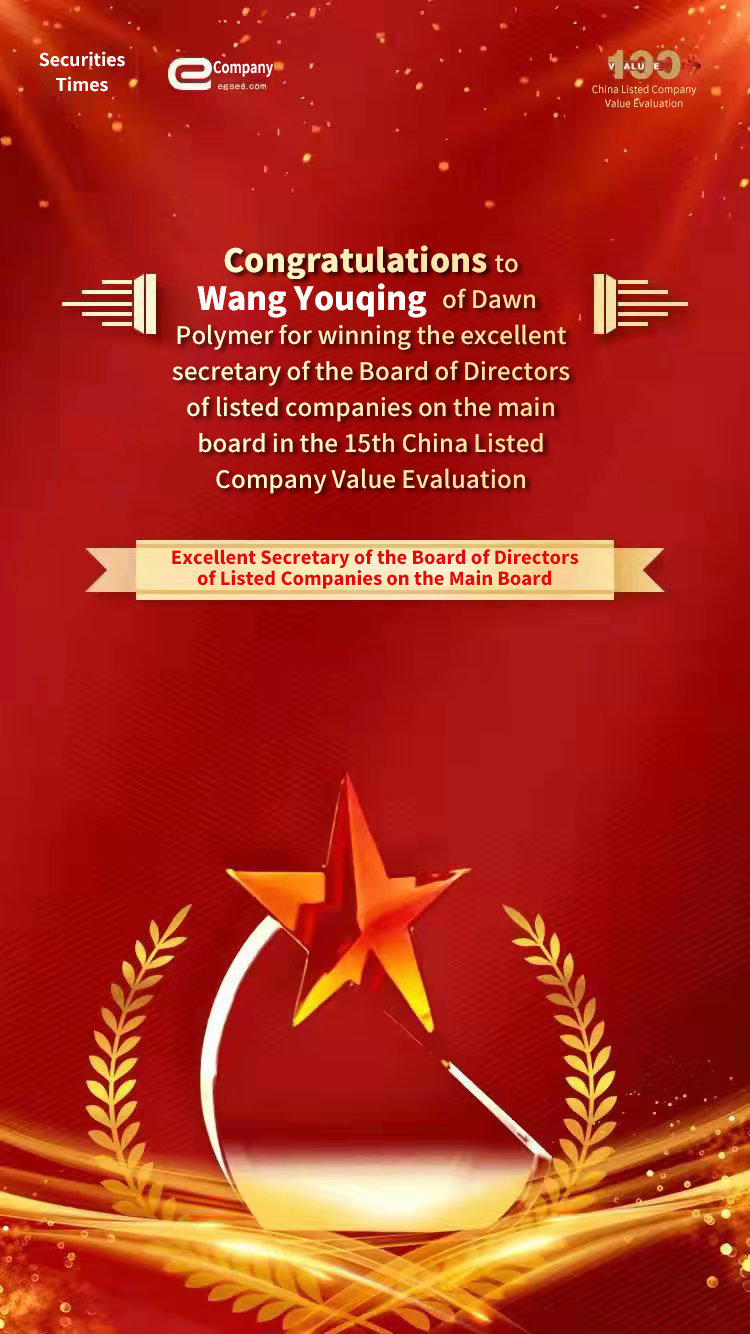 According to reports, "China's Listed Company Value Selection" has been adhering to the principles of science, objectivity, and fairness, and has now become one of the most influential selections in the field of listed companies sponsored by China mainstream financial medias.
The organizing committee's award speech to Chairman Yu Xiaoning said, "The 30 years is like a fleeting show and how time flies". He is innovative and hardworking to broaden new vision and increase courage for changing, and finally he develops from a small shopping mall into a national new material enterprise group. With 30 years of entrepreneurial history, he has built a well-known national brand with the empowerment of technology. Looking forward to the future, he will set sail towards the development of a hundred billion-level enterprise and continue to write the wonderful chapter of Dawn for a century."
As a listed subsidiary of Dawn Group, under the leadership of Chairman Yu Xiaoning, Dawn Polymer has been actively fulfilling corporate social responsibility, establishing, and improving the company's internal management and control system, organizing, and coordinating the work of various functional departments, and continuing to carry out in-depth corporate governance activities to promote the company's standardized operation and improve the level of corporate governance. It has obtained the "A" category of outstanding assessment results for information disclosure by the Shenzhen Stock Exchange for four consecutive years. It has successively completed major asset restructuring and public issuance of convertible bonds, smoothly carried out employee shareholding and equity incentive plans. It disclosed the non-public issuance plan in June this year, which established a good corporate image in the capital market.
Listed companies are the mainstay of China's economic development, the vanguard of industrial transformation and upgrading, and the vanguard of high-quality development. As one of the most influential selections in the field of China's listed companies, "Entrepreneurship Leaders" embodies the courage of contemporary entrepreneurs to innovate, work hard, seek innovation and change. And it is a reaffirmation of Dawn's financial performance, team management, strategic development, and brand image.
"Dawn Polymer is committed to share the high-quality development results of listed companies with investors and effectively protect the legitimate rights and interests of investors." Chairman Yu Xiaoning said that in the future, the company will further strengthen the management, improve the level of information disclosure, and deepen the management of investor relations. Relying on its own industrial advantages, Dawn Polymer will cultivate the endogenous healthy development and extensional exploration and development momentum, and continue to achieve breakthroughs on the road of high-quality development.