A few days ago, Shandong Transportation Department announced the multimodal transport "one-unit system" pilot project. The Dawn multimodal transport "one-unit system" project was successfully selected and became the only multimodal transport pilot project in Yantai. After the project is put into operation, it can increase the transportation volume of more than 1.5 million tons per year and reduce the logistics cost for customers by more than 20%. The model of "optimal route, lower cost and shorter time" will become a new model for cargo transportation services in Yantai.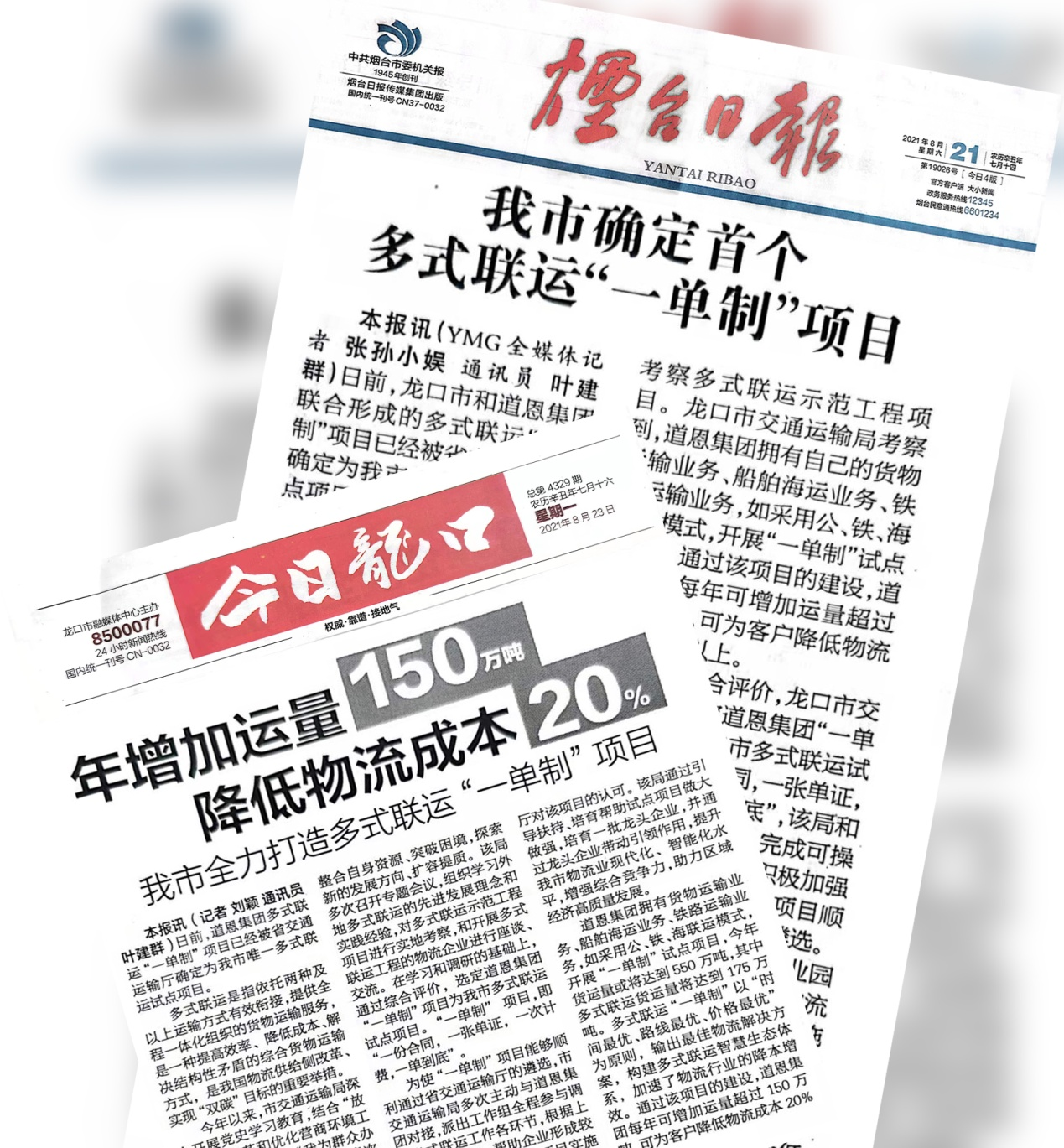 According to reports, multimodal transport refers to the effective connection of two or more modes of transport to provide cargo transportation services that are fully integrated and organized. It is an integrated cargo transportation method that improves efficiency, reduces costs, and resolves structural contradictions. It is also an important measure for China's logistics supply-side reform and realization of the "carbon peak and neutrality" goal.
Modern logistics is one of the important industries of Dawn Group. After years of development, a complete road, railway, and water combined transport model has been formed, and the multimodal transport infrastructure has been matured. With comprehensive evaluation, Longkou Transportation Bureau selected Dawn Group's "One-unit System" project as the pilot project of Longkou City's multimodal transport. "One-time consignment, one-time billing, one-time document, and one-time insurance". They actively connected to complete an actionable implementation plan and strengthened communication so that the "one-unit system" project could successfully passed the selection of Shandong Transportation Department.
"We have cargo transportation business, ship transportation business and railway transportation business. Through the operation of 'one-unit system' project, the freight volume this year may reach 5.5 million tons, of which the multimodal freight volume will reach 1.75 million tons." Han Yongwei, general manager of Rongchang Logistics Company, International Logistics Company, and Dawn Zhiyun Technology Company in the modern logistics industry, said that the multimodal transportation "one-unit system" adopted the principle of "optimal time, optimal route, and optimal price" to output the best logistics solutions, transformed the previous " the Road transportation Preferred" market into "Railway, Waterway and Road Transportation are All Suitable if possible" , accelerated the cost reduction and efficiency increase of the logistics industry, and built a smart multimodal transport ecosystem.
Dawn International Logistics Center Near the Port
"Being selected as the provincial multimodal transport 'one-unit system' pilot project this time is a recognition and affirmation for Dawn." General Manager Han Yongwei said that in the next step, they will rely on the Longkou New Material Science and Technology Industrial Park that Dawn undertakes and manages, make efforts to improve infrastructure, strengthen the construction of information systems, create an efficient logistics platform, and promote the in-depth development of multimodal transport "one-unit system" under the existing conditions and foundation of the warehousing and logistics area which is one of the "six districts" of the industrial park. While reducing transportation transaction costs and social logistics costs, it also promotes the green development of transportation, and enhances the overall economic and social benefits and industrial competitiveness.